Jockeys Guild News and Articles
Tuesday, May 29, 2012
LANERIE REFLECTS ON THE FIRST SIX-WIN DAY OF CAREER
From Churchill Downs Communications Department
The six-win day was a career high for the 37-year-old Lanerie, who rode five winners in one day eight times throughout his 22-year career. He accomplished the feat once at Evangeline (May 20, 1994) and Sam Houston (May 26, 1996) and three times at both Lone Star Park (July 17, 1999; July 14, 2002; June 6, 2003) and Fair Grounds (Nov. 28, 2002; Feb. 10, 2003; March 23, 2008).
The milestone afternoon for Lanerie left him one victory shy of the record for Churchill Downs wins in a single day shared by Hall of Famer Pat Day, the all-time win leader at Churchill Downs, and Julien Leparoux. Day won seven races from eight mounts on June 20, 1984, while Leparoux matched the feat from nine mounts on Nov. 11, 2008. Day won six races during a single racing program on four occasions.
Lanerie won aboard six of his seven mounts Sunday. In the eighth race, he finished eighth aboard Gold 'n White, his lone mount that failed to visit the winner's circle.
"It was amazing," Lanerie said. "To win with six out of seven makes it even better.
"I think you get in the zone and the horses feel it. Coming into the day, I knew I was on some live mounts. I thought I could have a good day, but did I think I would win six out of seven? Probably not. It all just fell into place. It was just my day."
Lanerie's sixth victory of the day moved him one win ahead of Shaun Bridgmohan in the jockey standings through Day 18 of the 39-day Spring Meet. Lanerie, who is seeking his first riding title at the Home of the Kentucky Derby, has finished second to Julien Leparoux in the standings in three of the last four meets at Churchill Downs. Leparoux moved his tack to New York following Derby week, leaving the door open for Lanerie and other riders to take the title.
"It'll be tough to beat Shaun (Bridgmohan) and Calvin (Borel)," Lanerie said. "They're both good riders and have good business. I'm just hopeful I can stay in the hunt."
Thursday, May 24, 2012
Gutierrez Named TT TODAY Jockey of the Week
That win vaulted Gutierrez to the top of the earnings list among North America-based jockeys for the week ended May 22. Gutierrez rode three winners last week earning $648,757, with I'll Have Another's $600,000 share of the Preakness purse accounting for the lion's share of overall earnings.
Gutierrez, who became an overnight sensation when he won the Kentucky Derby Presented by Yum! Brands (G1) on May 5 aboard I'll Have Another, continued to prove in the Preakness to his rapidly diminishing group of doubters that he has a skill set and a mental focus as a jockey that belies both his age—25—and his relative lack of big-race riding experience.
In the Preakness, Gutierrez positioned I'll Have Another in fourth through the backstretch but never lost touch with pacesetter Bodemeister. He continued to employ patience through the far turn at Pimlico and pushed the button on I'll Have Another at exactly the right time, as I'll Have Another found another gear at the top of the stretch and relentlessly closed the distance between himself and Bodemeister to get up in the final strides and win by a neck.
Gutierrez is now perfect in four starts aboard I'll Have Another, boasting wins in the Robert B. Lewis Stakes (G2) and the Santa Anita Derby (G1) earlier this year to pair with the two classic wins. He is also the third consecutive jockey to win the Preakness with his first mount, following Martin Garcia aboard Lookin At Lucky in 2010 and Jesus Castanon aboard Shackleford last year.
Gutierrez and the rest of the I'll Have Another team now set their sights on the Belmont Stakes (G1) on June 9, racing on a track that the Southern California-based jockey has never before experienced. Already skeptics have surfaced suggesting that a first-time rider who attempts to navigate Belmont Park's massive oval, especially going 1 ½ miles, will be doomed to failure.
But if the past three weeks are any indication, it would be unwise to doubt the talent and cool temperament of Gutierrez as he leads I'll Have Another in pursuit of racing's 12th Triple Crown.
Wednesday, May 23, 2012
ARLINGTON PARK TO DEBUT "BEHIND THE SILKS"
From Arlington Park Communications Department
"Besides being a really good rider, he's charismatic and he's well spoken," explained Arlington Television Analyst
Jessica Pacheco
, who also serves as the series' producer. "He comes across exactly as he is; a very authentic and genuine person."
"This is a great way to bring the fans closer to the sport," Thornton said. "The more people know about the sport, the more they'll get into it. The people who watch these videos will get a real behind the scenes look at horse racing and the people who are part of it."
Each video, designed to appeal not only the racing fan, but also to people who may not be that versed in racing to see what goes on behind the scenes through the eyes of a jockey, will be told in first person by the 25-year-old Thornton, who has been riding professionally for nine years and has more than 1,000 winners to his credit.
In addition to footage shot by Arlington's television department, the jockey will have a flip cam at his disposal to capture events as they happen in the backstretch in the morning and in his personal life after the races and on non-racing days.
The first episode is entitled simply "Tim Thornton" and will serve as an introduction to Thornton on both a professional and personal level.
A new episode will be posted each Friday allowing fans to follow Thornton throughout the Arlington Park racing season, which runs through Sept. 30. The videos can be found at http://www.arlingtonpark.com/newsvideosblogs/behind-silks.
Wednesday, May 23, 2012
1978 TRIPLE CROWN STARS CAUTHEN, VELASQUEZ TO SIGN AUTOGRAPHS AT BELMONT PARK SATURDAY
from NYRA Communications Department
The postcards will be given away free, with paid admission, at the Belmont Park entrances. The autograph signing will be $5, with all proceeds to be donated to the Permanently Disabled Jockeys' Fund.
The autograph session comes exactly two weeks before I'll Have Another attempts to add the Grade 1, $1 million Belmont Stakes to his victories in the Kentucky Derby and Preakness and become the 12th horse to sweep the series. Since 1978, 11 horses have tried and failed to win the 1 ½-mile "Test of the Champion" and join champions Affirmed, Seattle Slew, Secretariat, Citation, Assault, Count Fleet, Whirlaway, War Admiral, Omaha, Gallant Fox, and Sir Barton, most recently Big Brown in 2008.
"It looks like he'll have a great chance," said Cauthen of I'll Have Another, who arrived at Belmont Park Sunday on the heels of his hard-fought victory over Bodemeister in the Preakness. "This horse looks like he's got that same fighting spirit as Affirmed. He likes a game, and he wants to win and he can't wait to get another battle."
Cauthen was just 18 in 1978 when he and Affirmed outdueled Alydar and Velasquez through all three legs of the Triple Crown, culminating in their dramatic showdown in the Belmont. The two horses matched strides from the mile pole to the stretch and at the end, Affirmed hit the wire a mere head in front of Alydar and became the third Triple Crown winner of the decade along with Secretariat (1973) and Seattle Slew (1977).
"With Affirmed, he always did the right thing," said Cauthen, who currently manages a breeding operation in Kentucky. "He didn't waste any energy. And when it came down to a battle, he thrived on it."
Monday, May 21, 2012
ROSEMARY HOMEISTER EARNS VICTORY NO. 2,500
From Arlington Park Communications Department
Homeister was joined in the winner's circle by her daughter Victoria Rose, Arlington officials and her fellow riders as a video played saluting the milestone score as well as highlights of her career.
"I can't believe it's 2,500 wins," said an elated Homeister in the winner's circle. "I'm so glad I did it here at Arlington Park – the most beautiful racetrack in the world. I'm blessed to have my daughter Victoria Rose with me and I'm glad to have done it here with so many riders I've known for years and so many riders I'm meeting for the first time this year. The fans here have been awesome."
A 39-year-old native of Hollywood, Florida, Homeister is the second-leading female rider of all time trailing only Julie Krone. Homeister returned to riding last year after giving birth to daughter Victoria Rose and is riding in Chicago for the first time in 2012.
Thursday, May 17, 2012
SETH MARTINEZ SETTLING IN FOR SECOND ARLINGTON SEASON
Arlington Park Communications Department
"Actually, I didn't even get to complete the season here (at Arlington) last summer, because I broke my hand toward the end of the meet and was out of action for about eight weeks," Martinez said. "But I still was able to finish seventh in the standings, so all-in-all I thought I had a pretty good summer considering I was fairly new to the Chicago circuit.
"I've been pretty fortunate throughout my whole career as far as riding on circuits that were cool places to live," said Martinez, "but when (father and son trainers) Mac and Hugh (Robertson) asked me to come here for the summer, I was thought it would be a great opportunity for me. So far, it's been working out great."
Through Wednesday's eighth day of Arlington's 90-day 2012 session, Martinez was tied for second in the standings with defending jockey champion James Graham and local newcomers Channing Hill, Rosemary Homeister Jr. and apprentice Alex Canchari. The last named was scheduled to leave for the East Coast during the coming weekend.
Chicago-raised Francisco Torres had gotten off to the quickest start and was leading the local standings with 10 wins through Wednesday.
"This summer, in addition to the Robertson stable, I've got business in quite a few barns here and there," said Martinez. "It adds up. I feel like I've been given plenty of opportunities. The whole jockey colony here is a very good one, and nobody seems to have a lock on all the bigger barns, so everyone's business is pretty well spread out. I have no idea right now how high I might finish this summer, so I'll just keep on working as hard as I can and take it as far as it goes. I try to learn something new everyday, and I try to pick up bits and pieces from everyone.
"My real father (Beau Cisneros) had a brief career as a jockey but he broke his back when he was first starting out," Martinez said. "He's fine now, but that ended his riding career and now he lives back home in Raton, New Mexico, where I was born.
"My stepdad (Dickie Martinez) rode for 16 years, and when I first started riding, I starting using the name Martinez for record-keeping purposes because my real name (Seth Beau Cisneros) was too long.
"So my Mom and my Stepdad were married for a several years and had kids of their own, and my real Dad remarried and had other kids after he and my mother got divorced," Martinez said. "But get this. My Mom and Stepdad got divorced after a few years, and my real Dad and his second wife got divorced after a few years. Now here's the best part. Lately, my Mom and real Dad are getting back together, and that's after more than 20 years apart. I think that's just great. In fact, I think it's really cool."
One thing about Martinez's riding style that has impressed the local horsemen who have taken the time to notice is that he's not shy about going between horses when there is room.
"That's true," said Martinez. "I never even think about it. The way I look at it, if the horse wants to get through, he'll get through. It makes it more exciting for me to go through there, and probably the trainer as well – now that I think about it."
Wednesday, May 16, 2012
Lady Legends and Female Jockey Challenge Friday at Pimlico
From Pimlico Race Course Communications Department
A joint effort between Pimlico and Susan G. Komen for the Cure, the world's largest breast cancer organization, the annual springtime event was created in 2010 to help raise money and awareness in the fight against the disease.
Seventy-five percent of the funds raised will go to the Komen Maryland Affiliate to use for community outreach programs in Maryland. The remaining 25 percent will go toward breast cancer research.
In addition to the $300,000 Black-Eyed Susan (G2) for 3-year-old fillies and $300,00 Pimlico Special (G3), Friday's 13-race card is highlighted by the Lady Legends for the Cure III race, featuring an elite group of eight retired female champion jockeys, and the second annual Female Jockey Challenge, which brings together seven of the sport's top active lady riders.
Carded fourth (post time 1:30 p.m. EST), the Legends race is a $45,000 allowance on the main track at six furlongs that includes four also-eligibles. The 9-to-5 program favorite is Bellagio, to be ridden by Mary Russ-Tortora, who finished eighth last year.
The first female to win a Grade 1 stakes race, Russ-Tortora is one of six Legends that return from the inaugural event, which was the first pari-mutuel race featuring retired female riders. Profiled on NBC Sports, it was also filmed as the climatic ending to the feature length documentary in production, JOCK, chronicling the story of the first generation of lady jockeys.
Mary Wiley-Wagner, who rode Mass Destruction to a 6 ½-length victory last year, is back to defend her title. Married to Maryland Jockey Club starter Bruce Wagner, she ranked among the country's top five apprentice riders in 1983 and briefly returned to competitive riding in 2010.
A breast cancer survivor, her win in 2011 came 18 months to the day after finishing her final chemotherapy treatment. She ran fourth in 2010.
"I'm very excited," Wiley-Wagner, 48, said. "I'm extremely competitive. Having won it last year, the non-competitive side of me, if there is one, thinks it would be very nice to see someone else win it. Then, the real me says, 'Uh, no.'
"I'm sure every other rider out there feels the same way. We root each other on and say a prayer together before we go down to the paddock, but as soon as we throw a leg over our horse, it's each woman for herself. Ride safe, but everybody's out there to win."
Also back are Patti "PJ" Cooksey, a breast cancer survivor and one of only two women to ride in both the Kentucky Derby and Preakness; Barbara Jo Rubin, the first female to win a pari-mutuel race in the United States; Cheryl White, the first African-American female rider; and Jennifer Rowland Small, the top pioneer female rider in Maryland during the 1970s.
New to the competition this year are Jill Jellison, who ranks seventh among female riders with 1,853 victories between 1982 and 2010, including a career-high 241 in 1989; and Zoe Cadman, who won 311 races from 2000-04 and now works as an analyst for HRTV.
"I'm more excited about it than I thought I would be," Wiley-Wagner said. "I kind of thought that maybe the third time, you know, it's been done. I'm excited that we're going to have a couple of new riders; that's going to be fun. It looks like it's going to be a really, really good race. I'm very excited."
Wiley-Wagner is pleased with the way the event has grown, both for the charity and the industry it represents.
"The first year I think no one really knew what to expect," she said. "I think a lot of us riders were concerned whether everyone was going to take it seriously enough and really do what it takes to be fit enough. While we're only riding one race, you have to be pretty darn fit, and you have to keep in mind that anything can happen out there. Everyone has stepped up to the plate each year, and I think they are all looking forward to it as much as I am.
"Not only is it for a great cause, but I think it's also great for racing. I have so many friends and associates that came out the first year, people who had never been to the races before. They came out to support me and the other legends and some came out just for the cause, and they told me after the fact that they had such a great time. Almost all of them came back last year and are coming back again this year. It's a great day and a great celebration of Maryland racing and of what people can do when they pull together for a great cause."
Russ-Tortora, 58, ran third in the 2010 Legends race. She captured the Widener Handicap (G1) on Feb. 27, 1982 aboard Lord Darnley at Hialeah, becoming the first woman to win a Grade 1 race. She won 520 races and nearly $6 million in purses from 1980-94.
Cooksey, 54, ranks third all-time among female jockeys with 2,137 wins, retiring in 2004 with nearly $19.9 million in career purses. The first woman to ride in the Preakness, she ran fourth in the 2011 Legends race after finishing fifth in 2010.
Fifth in 2011 and sixth in 2010, Rubin, 62, became the first woman to win a race against males at a recognized track when she guided Cohesion to victory at Charles Town on Feb. 22, 1969. That same year, she was the first woman named to ride in the Kentucky Derby, though her horse, Picnic Fair, was scratched before the race. Having overcome polio as a child, Rubin retired in January 1970 with 22 wins from 89 mounts.
White, 58, made her riding debut on Ace Reward, a horse owned by her mother and trained by her father, Raymond White, who started two horses in the Kentucky Derby. A winner of five races on Oct. 19, 1983, White was also the first female steward at a California racetrack. She was eighth in the 2010 Legends race, and seventh last year.
After an injury ended her seven-year riding career in 1977 with 192 career wins, Rowland Small, 59, bred Touch of Class, a winner of two gold medals for jumping at the 1984 Olympics.
Friday's race will include $20,000 in bonus prizes. In addition to her earnings in the race, the winner will receive another $6,000. Other prize money: $4,000 (second), $3,000 (third), $2,500 (fourth), $1,500 (fifth) and $1,000 (sixth through eighth). Pimlico will match the amount wagered on Friday's winner and make a contribution to Komen Maryland.
In addition to her earnings in the race, each Legends participant will receive a $3,500 bonus. Pimlico will match the amount wagered on the 2012 winner on-track, and make a contribution to Komen Maryland.
STAR-STUDDED LINEUP FOR EXPANDED CHALLENGE
Rosie Napravnik, who leads all female riders this year in wins and purses, and Emma-Jayne Wilson, the Canadian-based defending champion, both return for Pimlico's second Female Jockey Challenge.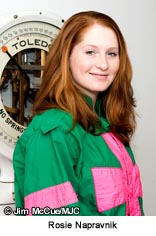 They are joined by fellow returnees Forest Boyce and Vicky Baze, and newcomers Rosemary Homeister, Tammi Piermarini and Greta Kuntzweiler.
The challenge was expanded from six to eight riders this year, but will be without Abby Fuller, who dropped out following the death of her father, Peter Fuller, on Monday. Peter Fuller bred and owned Mom's Command, who Abby Fuller rode to the New York filly Triple Crown in 1985.
In the challenge format, Riders will earn points for finishing first (12 points), second (6), third (4) and fourth (3) in four designated races: the second, third, fifth and seventh. The jockey with the most points at the end of the competition will be crowned champion and take home top prize of $10,000. Other prize money is $7,000 for second, $6,000 for third, $4,000 for fourth, $2,000 for fifth and $1,000 for sixth.
"This is the best female jockey challenge, not only that I've ever been in, but probably one of the best female jockey challenges there's ever been," Napravnik said. "They really have done a great job of picking out the elite female riders in the country, which makes it more competitive. It's fun to get together with the girls that really have been successful, and it's great to be included in what they call the elite riders in the country."
On May 4, the 24-year-old Napravnik became the first female rider in its 138-year history to win the Kentucky Oaks (G1) when she guided 13-to-1 long shot Believe You Can to a three-quarter length victory. Eight days later, she was the first woman to ever win the 58-year-old Peter Pan (G2) at Belmont Park, aboard Mark Valeski.
Add those to a growing list of firsts for the New Jersey native, who got her start in Maryland and was the state's top rider in 2006. She was the first female to win riding titles at Delaware Park (2010) and Fair Grounds, where she repeated her 2010-11 title with 111 victories over the winter. No woman had won the $1 million Louisiana Derby (G2) before Napravnik and Pants On Fire in 2011, and their sixth-place finish was the best for any female in the Kentucky Derby.
Runner-up to Julien Leparoux for the 2006 Eclipse Award as top apprentice rider, Naparavnik tied Baze for fourth in last year's challenge.
"I've been in a few of these jockey challenges before, and I seem to have the worst luck," Napravnik said, "but, I still like to do it. It's really fun, and I'm looking forward to being back."
Wilson, 31, finished first or second in three of four challenge races to capture the 2011 title, donating her $10,000 winner's share to Susan G. Komen for the Cure. Winner of the 2005 Eclipse Award and Canada's Sovereign Award in 2005 and 2006 as champion apprentice jockey, she became the first female to win the Queen's Plate, her country's version of the Kentucky Derby, in 2007.
Boyce, 27, was third in Maryland's jockey standings with 71 wins last year after being the state's leading rider in 2010 as an apprentice, winning 106 races at Laurel Park and Pimlico and riding titles at Laurel's summer and fall meets. Second in Eclipse Award voting for top apprentice, she was second in the inaugural challenge.
Baze, 47, became the fourth female to reach 2,000 career wins on March 1, 2011 at Turfway Park. She won more than 200 races in 1986 and 1993 before retiring in 2001, returning to ride full-time in 2009, winning 152 races in 2010 and 63 last year.
Homeister, 39, ranks second on the all-time female win list with nearly 2,500 victories, trailing only Hall of Famer Julie Krone. The fifth of six women to ride in the Kentucky Derby, finishing 13th with Supah Blitz in 2003, Homeister was expecting her first child and unable to participate last year.
A 45-year-old mother of three, Piermarini followed Baze as the fifth female to win 2,000 career races, reaching the milestone on Aug. 23, 2011 on Sugar Trade at her home base of Suffolk Downs.
After missing 4 ½ years with drug-related issues, Kuntzweiler, 36, returned to competitive riding in June 2010. A 2000 Eclipse Award finalist for top apprentice, she won the winter-spring meet title at Turfway Park in 2002 and the $750,000 Hawthorne Gold Cup in 2004.
Participants from both the Challenge and the Lady Legends race will take part in an autograph session on the first floor grandstand trackside starting at 10 a.m.
Tuesday, May 15, 2012
Mario Gutierrez Receives Warm Welcome at Hastings
By Cam Tucker, Vancouver Sun
Hundreds of horse racing fans from Vancouver and the furthest reaches of the Lower Mainland descended on Hastings Racecourse to meet the 25-year-old jockey, who competed at the local track for six years, before achieving inter-national fame with his May 5 victory at the historic Churchill Downs in Louisville, Ky.
Gutierrez, aboard Reddam Racing's I'll Have Another, managed to track down and beat 4-1 favourite Bodemeister at the wire to take the 138th Derby in front of a record crowd of 165,307 spectators.
"I followed Mario the years that he was here and I think it's terribly exciting," said Robert Henderson, who drove from Chilliwack to Vancouver to pass along his personal congratulations to Gutierrez, while donning a button on his white blazer that read "Go Mario Go."
"This is just magic, really. I was watching [the Kentucky Derby], believe me. It was great. I've replayed it so many times ... It's very thrilling that we have somebody from Vancouver to go on and do very well in this day."
Maria Godart was also among those lined up to see Gutierrez. She has seen him on many occasions at Hastings Race-course, where he was the top rider in 2007 and 2008, and was among the top three riders in each of the six years he competed in Vancouver, from 2006 to 2011.
"We've been coming to the track and involved in the [horse ownership] syndicate probably the past eight or nine years, so we've watched Mario race here," said Godart.
"It's truly exciting for every-body. I was right here watching it with my husband and a couple of friends, and just shock. I don't really know why.
"He's certainly a capable jockey and it shouldn't have been this surprising. But it's the Kentucky Derby and there's a lot of horses, so it was great."
Not far from the lineup was a table with a plastic banner laid out for people to write personal messages for the jockey.
"Mario! Vancity [so] proud of you! Good luck in the Preakness with IHA [I'll Have Another]! We're routing for you!" one message read.
Gutierrez arrived at Hastings Racecourse around 11: 30 a.m., clad in a purple shirt, dark grey vest and sunglasses atop his head, before a press conference with reporters inside the Casino Eclipse Lounge.
Despite being overwhelmed with media requests since his victory, Gutierrez answered questions for almost 25 minutes.
"I came here in 2006, being 19 years old and Vancouver and Hastings ... gave me a lot of opportunities," said Gutierrez, who stood at the podium, while horse owner Glen Todd - Gutierrez's mentor in Vancouver - and Hastings Race-course general manager Raj Mutti sat nearby.
"I came from a small family in Mexico, so being here and all the support from the trainers and owners, I can finally have the opportunity to give my family, like a better living. I owe Vancouver and I feel like home here."
Gutierrez originally hails from the small farming town of Veracruz, Mexico. He was recruited from a racetrack in Mexico City and brought north to Vancouver. It was in this part of the world where he excelled.
Todd, who took Gutierrez into his White Rock home when he first arrived here, fought to hold back tears when talking to reporters on Sunday.
Todd said he believed in Gutierrez "from Day 1" and that the jockey was "like an adopted" son.
"Well, I think he's the hottest thing since sliced bread right now, not only for our sport but for the city of Vancouver," said Todd. "I've told him since the first day I met him, he's gifted. He's gifted."
Asked if he could express how proud he is of Gutierrez, Todd said: "If I do, I'll get emotional."
Ditto for Gutierrez, when asked about what Todd means to him.
"He keeps pointing me in the right direction, and probably, if I didn't stay with him, I probably wouldn't be here talking to you," said Gutierrez.
The feeling of accomplishment for Gutierrez is still raw. After a few days of resting and relaxing with friends and family in Vancouver, Gutierrez will be off to Baltimore, Md., for the 137th running of the Preakness Stakes at Pimlico, the second leg of thoroughbred horse racing's Triple Crown.
I'll Have Another is already at Pimlico. The two will be reunited in just a few days, no longer the underdogs like they were - at 15-1 odds - for the Kentucky Derby.
"I feel 100 per cent confident," said Gutierrez, who later added he wasn't nervous waiting in the gate at the Derby.
"The horse is really nice. He's a super horse.
"He's so professional, he loves what he does. I have no doubt the horse is going to do so good and we'll see what happens on Saturday.
"I can only speak from this year. That's when I finally met him, a couple of months ago. Since the first time I rode him, I just knew he was special, it was like something - I don't know how to describe it - but I knew he was something special."
ctucker@vancouversun.com Twitter.com/camtuckersun
Tuesday, May 15, 2012
A jockey's odyssey
Jim Price/Spokesman-Review
Those who remember horse racing in Spokane, remember Playfair Race Course. And those who remember Playfair, probably recall Kato, the jockey who, strictly speaking, became the most successful rider in the annals of the ill-fated historic track. Playfair may be defunct. Kato is not.
Kato, son of a Japanese jockey turned trainer, was born in Osaka. Now 60, he came to Spokane for the first time in 1973 and populated the jockey standings so frequently for the next quarter century, that, by 1995, right here, he had ridden 1,104 winners. He won two championships, finished among the top six riders more than a dozen times, and won a record four renewals of the Playfair Mile.
One month ago, at Turf Paradise in Phoenix, Kato joined the select ranks of jockeys who have ridden 2,000 career winners.
"If I didn't take a detour," Kato said by telephone from his Arizona home, "I would have done it a long time ago."
He has not proceeded directly from his first winner to his last.
"I took another job, as a bloodstock agent," he said." I started buying horses for Japanese people. One thing led to another, I met one of the biggest owners in Japan, and then I studied the bloodlines and did some research. I bought a sales-topper in Keeneland twice."
Some horse people don't do that in a lifetime.
Kato began hanging around prestigious sales rings while he was riding regularly in Spokane. And he already had started selling equipment – tack – to his fellow jockeys. His best client's illness led him to cut back on his bloodstock work. But the tack business now has a website and a nationwide clientele.
So how does he find time to ride?
"I just like to stay busy," he said.
Although Kato grew up around thoroughbreds, it wasn't racing that brought him to the U.S.
"I just wanted to come to Disneyland," he said, thinking back to the summer of 1971. "I didn't think about riding and only knew about Hollywood Park because it was close to the airport. So I went there and got to know a few trainers. One who put me on a horse said I looked OK."
Kato had his first mount early the next year at Golden Gate Fields. And he rode his first winner that August at Ferndale, a quaint, remote stop on the Northern California fair circuit. He moved on to the Oregon State Fair meet in Salem and the Fresno (Calif.) District Fair before teaming up with veteran agent Whitey Fried at Portland Meadows in the spring of 1973. Kato won 23 races to edge local high-school girl Jane Driggers for apprentice honors. That summer in Spokane, Fried booked mounts for Kato, Driggers and defending champion Jerry Taketa. He had a great meet.
Kato won only once in his first 56 rides. But in the season's third week, he rode nine winners and zoomed into the upper ranks of the standings.
Gregarious and talkative, speaking broken English with a heavy accent, he became an almost instant favorite of fans and the media. He got a big laugh at a gathering of the Sports Writers and Broadcasters when he pointed out that "English is required in the Japanese schools, but it was my worst subject."
The press box gang affectionately dubbed him "Aki Sake, the Cocky Jockey."
By the time Kato lost his 5-pound weight allowance, he had set a Playfair apprentice record with 48 victories. For the season, he finished third in the standings with 59 wins, Taketa won his third straight title, and Driggers became the official apprentice leader.
After an unremarkable 1974 season at Playfair, Kato placed second in 1975. A first-turn spill badly injured his left shoulder early in the 1976 meet. But he rebounded to win the 1977 title with 64 wins. In 1982, he began the most extended stretch of riding success in track history, collecting more than half of his Spokane victories in the space of seven years.
In 1983, he married Dori Yamaura, a Spokane auto mechanic's daughter. The next year, he won another Playfair title.
Kato's first championship season had brought his second Playfair Mile victory. He and Hyali Talk, owned and trained by Vic Bickler of Billings, Mont., won the Inland Empire Marathon Prep and overhauled I'm Kemah in the final strides to win the Mile, the season's most important handicap event. As a result, Hyali Talk was elected Horse of the Meeting.
Kato won his third Playfair Mile astride Charmhersweet in 1979. Eagle Joe provided his fourth in 1983. Jerry Pruitt matched him a decade later by riding his second, third and fourth winners (1986-88).
"The one I had more fun with was Hyali Talk," Kato said. "He was so versatile and so durable a horse. The week before the Mile (the Marathon Prep), he had broken the track record for 1 5/8 miles under a gallop, so I knew he had the air. I took him back off the pace and then here he came."
Hyali Talk, with Kato aboard, won stakes races at Denver's Centennial Park the next summer and, after running against Charmhersweet there in 1979, Kato said, "I told his trainer, Mike Griffin, to bring her to Spokane, and we'll win the Playfair Mile. He did, and she did."
Like Kato, Hyali Talk raced almost into his dotage. The chestnut gelding made an extraordinary 104 career starts, winning 37 races and earning $100,773. He and Kato won 17 times together in 36 tries. At Turf Paradise alone, the horse won 19 of 31 starts, usually with Kato aboard.
Kato's secondary job as a bloodstock agent became his primary occupation by the 1990s.
At Lexington, Ky., in 1995, he led the Keeneland sale of breeding stock with a bid of $2.5 million on behalf of Kazuo Nakamura for the great British race mare User Friendly. In 2006, acting on behalf of Nakamura's son, Isami, he topped another sale by spending $875,000 for three-time Canadian distaff champion One For Rose. Each winter, Kato had to skip Phoenix riding opportunities to be there.
Kato said one newsman wrote, "He may be the only guy in the world who could buy a sales-topper one night and ride a $3,000 claimer the next day."
Kato achieved his recent milestone April 16 on a 3-year-old filly named She's A Hit, rallying her to win the eighth race by a head.
How important was it?
Kato laughed. "When I got close, I said 'Man, I got to do that.' For that race, I told my wife, 'You'd better come today. If everything goes, I know she should win.' "
She's A Hit is trained by Kato's daughter, Kaylyn. Aki and Dori Kato also have a son, Akihiro, a University of Phoenix employee.
Goals aside, why does a 60-year-old with other income battle horse traffic on a race track?
"I just love riding," Kato said, getting right to the point. "It's the thrill of being out there and being competitive."
Friday, May 11, 2012
Gutierrez Keeping Things in Perspective
Thursday, May 10, 2012
Mario Gutierrez Named TT TODAY Jockey of the Week
That victory, Gutierrez's lone win from six starts last week, assured the 25-year-old native of Veracruz, Mexico, the distinction of leading rider by purse earnings for the week ended May 8.
Gutierrez, in his first season riding in Southern California after six years at Hastings Racecourse in Vancouver, British Columbia, acquired the mount on I'll Have Another prior to the colt's seasonal debut in the Robert B. Lewis Stakes (G2) at Santa Anita Park on February 4, when owner J. Paul Reddam and trainer Doug O'Neill needed a jockey for their expected longshot.
According to O'Neill, "I was having lunch with [the Reddams].... As we were talking, Mario had just won a race. Paul said, 'Who is that kid?' I knew his agent … [but] I couldn't pick Mario out of a lineup at the time. I had him come work the colt. They got along beautiful. Paul [Reddam] said, 'Let's give the kid a chance.' "
Gutierrez piloted I'll Have Another to a 43.30-to-1 upset in the Robert B. Lewis and a nose victory in the Santa Anita Derby (G1) prior to their 1 ½-length triumph over Bodemeister in the Kentucky Derby.
"I think we all need opportunity and great things can happen," said Gutierrez shortly after the Kentucky Derby.
Gutierrez and I'll Have Another will try for the second leg of the Triple Crown—the $1-million Preakness Stakes (G1)—at Pimlico Race Course on May 19.
Wednesday, May 09, 2012
Louisiana Downs: Perrodin gets lifetime achievment award
by Jeff Taylor/Daily Racing Form
A large group of friends, family, horsemen, officials as well as current and former members of the local jockey colony surrounded Perrodin in the winner's circle he had visited countless times as a rider.
Perrodin, who was found to have inoperable lung cancer soon after announcing his retirement earlier this year, appeared frail but in good spirits as he was escorted by his wife Lisa, trainer Pat Mouton and visiting rider and close friend Bobby Walker Jr.
Mouton is married to Lisa's sister Pam, and the tightly knit four-member family unit has been a big part of racing at Louisiana Downs for the last 30 years. Walker's daughter Brittany, 20, was also in attendance and is the goddaughter of the Perrodins.
"It means more than you know," a tearful Pam Mouton said of the ceremony. "It has been a very difficult time for us, very difficult. But the love out there today says so much about this racing community."
A winner of over 3,000 races, Perrodin, 55, is under hospice care at his home in nearby Haughton, La. He and Lisa have a 7-year-old son, Devin.
Wednesday, May 09, 2012
Arlington's Jockey Champion James Graham
From Arlington Park Communications Department
After winning his first riding championship at Arlington last summer, Graham finished second in the standings at Keeneland last fall, journeyed on down to New Orleans for the winter and where he was runner-up in the Fair Grounds standings, and then returned to Keeneland for its spring meet to win three stakes – two of them Grade I affairs.
Arriving back in Chicago in time for Sunday's races at Arlington, Graham won the second race of the day aboard Gary and Beth Leverton's Mr Num Num for trainer Frank Kirby in a dead-heat finish, won his second by taking the fifth on Thad Ackel's Mop Head for trainer Mike Stidham and completed a riding triple by winning the sixth on Terry Hamilton and Robert Morgan's Gleam of Hope, again for Stidham.
Graham, born in Finglas, Dublin, will turn 33 years old next week, but since arriving in the United States in 2004 he has been an annual staple in the Arlington jockey colony as well as at Fair Grounds during the winter months.
Regular guests at Arlington each summer have come to know that they can count on Graham to deliver his best effort aboard every horse he rides, whether in a Grade I event or the Daily Double.
"I ride for good people and they put me on good horses," Graham said during training hours this week at Arlington. "That's all there is to it."
Of course, there's some truth to that, but there's also the fact that Graham is a "heady" enough rider to know when to take advantage of a situation. In Keeneland's Grade I Ashland, for instance, Graham was aboard Alex Campbell's Karlovy Vary, sent off as the second-longest shot in that annual 3-year-old filly fixture. Graham quickly sprinted to the lead aboard that daughter of Dynaformer, was able to make the pace with tawdry early splits and then had enough left to withstand the race's late runners by three-quarters of a length. Karlovy Vary paid a generous $32.80 for the win.
"Looking at the replay makes me laugh," said Graham. "I can't believe they let me get away with early splits like that. I don't know what they were thinking.
"I didn't think they'd let me go as slow as they did," Graham said. "I was the only one in the race that had any speed."
One week later, in the Grade I Jenny Wiley, Graham used the same tactics astride James Miller's Daisy Devine to be clearly best by a length at the wire. That daughter of Kafwain was also overlooked by the fans, returning a $16.20 win mutuel. It was the first time Graham had registered two Grade I wins during the same meeting at the Lexington oval, but he wasn't finished with his success in Kentucky.
On April 26, Graham piloted Stone Farm et al.'s Upperline to a length and a half-tally in Keeneland's Grade III Bewitch Stakes after coming from off the pace with a bold late move in the stretch. That win, aboard the heroine of the Arlington Oaks two years ago, was for the Chicago-based Stidham.
Despite earning his first riding championship honors at Arlington last summer, Graham seems particularly unimpressed by the accomplishment.
"Winning the title last summer was nice," said Graham, "because it's such a major circuit and I love it here. But it's hardly the most important thing for me – no matter where you are riding. The most important thing is for everyone to stay safe. It's a long meeting here. For now, we're here and just very happy to be back at Arlington."
Tuesday, May 08, 2012
Parker rides 4,000th winner
From Thoroughbred Times TODAY
Parker, 41, rode the six-year-old Full Mandate mare to a 1¾-length victory in a $5,000 claiming event. He entered Sunday one win shy of the milestone, having ridden six winners at the track the night before.
Parker is a perennial leading jockey at Mountaineer Park and was North America's leading jockey by wins in 2010 and 2011, with 377 and 400 victories, respectively.
Through May 6, Parker has ridden the winners of 4,001 races from 26,247 starts. His mounts have earned $44,109,181.
Monday, May 07, 2012
Winter Memories Gives Eddie Castro his 2000th Victory
From NYRA Communications Department
With Castro aboard for the first time in her career, Winter Memories raced in fourth behind fractions of 49.90 and 1:13.98, brushed with Check the Label while moving outside, and took off after getting the space she needed en route to a 2 ¼-length score over Gitchee Goomie.
"She relaxed fine in the beginning behind the other horses," said Castro, a 27-year-old native of Panama who began riding in the United States in 2003. "I knew there was not too much speed, so I had to be right there. With no speed – the turf is really soft, too – I had to wait, wait. At the top of the stretch, the other horse pushed me in, but I pushed back a little bit. When she was clear and she could run, she took off."
Winning trainer Jimmy Toner lauded Winter Memories and Castro for their performances in the Beaugay.
"She put in a really nice race," said Toner. "She really did. You could see they were all just getting ready to box her in there, and [Castro] was patient. When they tried to push him back in, he came back out. Boy, he rode a beautiful race."
Winter Memories, a 4-year-old daughter of El Prado, earned her fourth graded stakes win at Belmont and sixth overall and paid $3.90 for a $2 win wager as the 4-5 favorite. The Phillips Racing Partnership homebred completed 1 1/16 miles over yielding turf in 1:43.87.
The Beaugay was Winter Memories' first start at Belmont since her dramatic neck win in September's Grade 1 Garden City. She concluded her 2011 campaign with a fourth as the favorite in the Grade 1 Queen Elizabeth II Challenge Cup in October at Keeneland. Overall, she is 7-1-0 from 10 starts with $808,100 in earnings, including $90,000 for her Beaugay triumph.
Toner said Winter Memories will target the Grade 1, $500,000 Just a Game on June 9, Belmont Stakes Day.
Principal Role was third, followed by Federation, Check the Label, and Hessonite. La Cloche, who was coupled with Winter Memories, Check Point, and My Redbyrd were scratched.
Castro, third in the jockey standings at the recently concluded Aqueduct Racetrack spring meet, grew up on a farm riding horses and became interested in racing by watching compatriots such as Cornelio Velasquez. He attended his native country's jockey school – now named after its most famous graduate, Laffit Pincay, Jr. – and won his first race there on December 6, 2002.
Castro registered his first North American victory aboard Diamond and Notes on April 23, 2003 at Gulfstream Park. He went on to win 241 more races that year and earned the 2003 Eclipse Award as the nation's top apprentice jockey despite missing three months.
In 2005, he set a national record when he rode nine winners on a single card at Calder on June 4. Last year on the NYRA circuit, Castro finished sixth overall with 111 victories, including Grade 1 wins in the TVG Acorn and Coaching Club American Oaks aboard It's Tricky and the Resorts World Casino New York City Wood Memorial with Toby's Corner.
He reached the 1,000-win milestone on November 15, 2008 at Churchill Downs.
-30-
Monday, May 07, 2012
Goncalves Takes Leading Rider Title At Tampa Bay Downs
Tampa Bay Downs Communications Department
Make no mistake, though: The 30-year-old Goncalves won the title on his own merits, displaying a work ethic and professionalism worthy of the top spot.
Goncalves rode 88 winners from 384 starters to finish eight victories ahead of 2010-11 track champion Ronnie Allen, Jr. (who rode nine winners over the final three days). The Brazilian-born Goncalves posted mount earnings of $1,299,954, almost $200,000 more than runner-up Angel Serpa.
Goncalves achieved a major career milestone Dec. 28 by riding his 1,000th career winner aboard the then-6-year-old gelding Rich Hero for Ness and Midwest in a starter allowance. He finished 2011 with 298 victories, third-best in the nation.
He was at his best on Florida Cup Day on April 7, when he won the $75,000 Ocala Breeders' Sales Sophomore Stakes on Tarpy's Goal and the $75,000 Stonehedge Farm South Sophomore Fillies Stakes on Xunlei. Both winners were trained by Dale Romans.
Goncalves also enjoyed a streak of 18 consecutive racing days at Tampa Bay Downs with at least one winner. He is competing at Indiana Downs currently and his trophy was accepted by 16-year-old Jessy Smith, who is the daughter of Mandy Ness (and Jamie's stepdaughter) and one of Goncalves' biggest supporters. Peter Berube made the presentation.
Monday, May 07, 2012
ROSIE RETURNS TO BELMONT PARK AFTER HISTORIC VICTORY
From NYRA Communications Department
"It's just been a whirlwind – I haven't had a chance to sit down and relax yet," said Napravnik, who finished third aboard Wildcat Frankie in race 4 at Belmont, her first race at her new home base since the historic victory. "After the [Oaks] I had over 100 text messages, along with voice mails, Twitter, Facebook messages. We've been getting tons of support."
Napravnik's trip back from Louisville Sunday morning was much more eventful than her trip in the Oaks, in which she and Believe You Can outdueled newly minted Hall of Famer John Velazquez and Broadway's Alibi to win by less than a length. She arrived at the Louisville airport at 4:30 a.m. for her early morning flight back to New York, but after leaving the gate, the plane was forced to return for repairs. After an hour delay, the plane left the gate again, said Napravnik, but once again had to turn around and come back.
"Finally, we got a new plane," she said. "It was a bit of a rough morning. We wound up getting here three hours late, and I arrived just in time for the fourth race. It was lucky for me that my first two mounts today at Belmont were scratched, because I wouldn't have made it."
Arriving straight from the airport, Napravnik said she was thrilled at the enthusiastic welcome she received from fans and her fellow riders.
"A lot of the fans were congratulating me, [and] my peers in the jockeys' room," she said. "I'm really happy to have everyone's support. It feels great. I'm so happy to be riding here today."
Napravnik had been scheduled to ride Mark Valeski in today's Kentucky Derby, but the colt was declared from the race by trainer Larry Jones after a sub-par workout earlier in the week. The Louisiana Derby runner-up is being re-routed to the Grade 2 Peter Pan at Belmont on May 12.
"I still have a really nice [colt] in Mark Valeski, and he should be very tough to beat in [the Peter Pan]," she said. "There are still plenty of races this summer for 3-year-olds, and Larry is pretty adamant about making it to the Travers with him, so that's really exciting."
Tuesday, May 01, 2012
HRTV PREMIERES GARRETT GOMEZ: 118 DAYS DOCUMENTARY ON THURSDAY, MAY 3
Contact: Scott Cooper, HRTV, 609-391-8166
Garrett Gomez: 118 Days was produced for HRTV by accomplished filmmakers, Jackson Nguyen and Todd Crites, of Turn Left Productions, who are multiple national award-winners of both Sports Emmys and Peabodys. They have closely documented Gomez's grueling comeback from a shattered heel, suffered in a freak paddock incident at Santa Anita on January 8.
"From the beginning we all believed that there was a tremendous story," said Nguyen. "What we didn't anticipate was the multiple layers that would reveal itself through the process. Luckily we were there to capture all of it with a cinematic approach, which is a tribute to Garrett and those he surrounds himself with. We thought we had an idea of what a jockey and the world of horse racing had to offer, but quickly realized that we've only scratched the surface."
The documentary adroitly outlines Gomez's recovery from a serious injury, and his self-imposed deadline to return to regain his health, return to the saddle, and gaining the all-important mount in the quickly-approaching "Run for the Roses." It includes exclusive interviews with his wife, Pam; his agent, Tony Matos; and surgeon, Dr. Kenneth Jung. Gomez reveals the roller coaster of emotions regarding the unknown timetable as he mends from the surgery, and his insatiable quest to win his first-ever Derby.
Viewers are afforded a rare, behind-the-scenes glimpse of the Eclipse Award-winning rider's personal life, detailing his first pre-mature attempt at a comeback on March 9, as well as life away from the track -- including relaxing and recuperating on the golf course, and spending time at his farm in Norco.
The documentary also follows Gomez's trip to Keeneland and the eventual securing of Daddy Nose Best as his mount for this year's Derby.