Jockeys Guild News and Articles
Thursday, August 25, 2011
Joe Talamo Named TT Times TODAY Jockey of the Week
The Southern California-based rider enjoyed ten trips to the winners' circle, including three stakes victory celebrations after guiding Tanda to victory in the $150,000 Rancho Bernardo Handicap (G3), Halo Dolly in the $100,000 Solana Beach Handicap, and Raetodandty in the $85,000 Green Flash Handicap. His mounts earned $518,842.

The big week helped Talamo, 21, move to the top of the Del Mar jockey standings with 31 victories through Tuesd

ay,

two more than second-place Joel Rosario at the current meeting that continues through September 7. For the year, the Marrero, Louisiana native ranks ninth in mount earnings with $6,585,704 through Tuesday.
Wednesday, August 24, 2011
Vic Zast's Saratoga Diary-PDJF Fund Raiser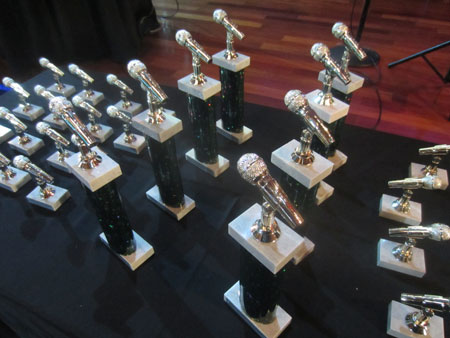 Microphone trophies distributed to 21 jockey contestants in the karaoke competition.
Otherwise, the late-into-the-early-morning-hours evening was the smiley-est event of the Saratoga social season so far. The Belmont Child Care Association's party is tonight and the Travers Celebration takes flight on Thursday evening. Yet, neither event will have Tom Durkin spitting out pithy zingers as emcee or media celebrities casting scores and opinions a la Simon Cowell ("It's really hard to sing that song while chewing gum") or, most notably, the fun.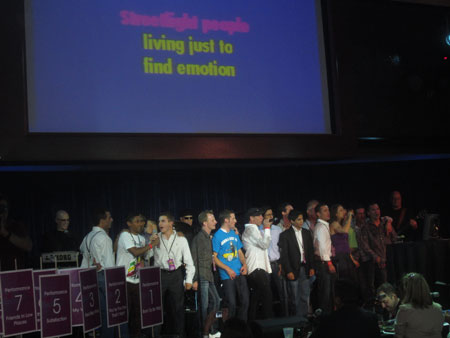 Jockey karaoke contestants take to the stage for a curtain call.


The Vapor Night Club, where the karaoke contest was held, is normally a boîte de nuit for self-conscious lotharios and cougars, faux swanky in its curves and blue neon. Yet, the jockeys appeared capriciously on stage in a do-rag (Mike Luzzi singing "Born to Be Wild"); tube top, jeggings and blonde wig (Maylan Studart doing "You're the One That I Love") and dreadlocks (Rajiv Maragh and Alan Garcia groaning mercilessly through Neil Diamond's "Red Red Wine"). Mernagh's spirited finale of "New York, New York" brought the house up – in other words, a standing ovation resulted.

Nancy LaSala, the PDJF president whose husband Jerry, a professional jockey for nearly 30 years that has miraculously escaped the plight she's been trying to mitigate, commanded a flight of worker bees. Hall of Fame jockeys Jerry Bailey and Jose Santos, Jr. and trainers Chad Brown, David Donk and Tom Voss were spotted in the audience. One audience participant, in particular, had 45,000 reasons besides the occasion to celebrate.

Barry K. Schwartz, the former chairman of NYRA, saw his New York homebred filly Lovely Lil win the $75,000 Union Avenue Stakes a few hours earlier. Speaking of dressing the part, Sheryl Schwartz, the owner's wife, wore two-inch platform, brown leather lace-up boots with spiked heels to the paddock and winner's circle that were killer. Unlike the jockeys who looked like singers but couldn't sing, Schwartz has the gams to flatter such boots and could walk gracefully in them.
Tuesday, August 23, 2011
PRAIRIE MEADOWS JOCKEYS PAY VISITS TO MERCY MEDICAL CENTER
Jockey goggles proved to be popular giveaway items for the children on July 29 when jockeys David Mello, Ken Tohill, Jenna Joubert, Jake Barton, Alex Birzer, Terry Thompson, Glen Murphy and Phil Teator visited Mercy Medical Center's child care facility.
Jockey Phil Teator later gave the group an insight into the lives of jockeys.
On August 8, jockeys Shane Laviolette, Jake Barton, Patrick Canchari, Alex Birzer and David Mello visited the Inpatient Pediatric Unit at the Medical Center and provided the children with posters, coloring books and gift bags.
Thursday, August 18, 2011
Dominguez Named TT TODAY Jockey of the Week
The 34-year-old from Caracas, Venezuela, collected the lion's share of his earnings for the week—$909,480—for his victory in the Beverly D., which Stacelita won by 1¼ lengths, and runner-up finish aboard Gio Ponti in the Arlington Million Stake(G1).
Dominguez bankrolled $619,500 from those two races, including the $427,500 winner's share for the Beverly D. Dominguez, who has been dominant the past two seasons on the New York circuit, currently ranks second nationally among
jockeys by earnings with $11,019,480, less than $50,000 behind
leader John Velazquez through August 17.
Thursday, August 11, 2011
CELEBRITY JOCKEY BARTENDING EVENT AUGUST 17TH
After they get done riding in the races at Saratoga Race Track, some of the nation's top jockeys will be shaking cocktails and mixing drinks for tips with all proceeds benefiting The Robby Albarado Foundation and the Permanently Disabled Jockey Fund (PDJF).
This event will take place from 7:00 p.m. to 9:00 p.m. at Prime at Saratoga National. Prime is at the award-winning Saratoga National Gold Club located at 458 Union Avenue in Saratoga Springs.

Jockey bartenders include Robby Albarado, John Velazquez and Julien Leparoux. Other jockeys will also be participating in the event. Entertainment will be provided by Wayne Pensiero & Tony Mancuso.
The Robby Albarado Foundation is a non-profit, federally recognized 501(c)(3) organization established to improve and enrich the lives of young people through personal involvement, volunteerism and financial support. It's the Foundation's vision to build stronger communities by giving young people the opportunity to reach their full potential. The Foundation is dedicated to those on and off of the race-track.
The Permanently Disabled Jockeys Fund (PDJF) is a 501(c)(3) public charity that provides financial assistance to some 60 former jockeys who have suffered catastrophic on-track injuries. Since its founding in 2006, the fund has disbursed over $3.5 million to permanently disabled jockeys, most of whom have sustained paralysis or brain injuries.
-30-
Contact: The Robby Albarado Foundation, Inc. (888) 723-4483
Thursday, August 11, 2011
Bejarano Named TT TODAY Jockey of the Week
Bejarano notched four stakes victories on August 6 at Mountaineer, including the day's featured race on Prayer for Relief in the $750,000 West Virginia Derby (G2).
Back in Southern California the following day, Bejarano guided spectacular juvenile Creative Cause to an impressive victory in the Best Pal Stakes (G2).
Paced by nine wins, Bejarano finished atop this week's earnings list with $880,060. For the year, the 29-year-old native of Peru ranks fourth among North American-based riders with $8,809,692 in earnings.
Friday, August 05, 2011
RMTC APPROVES NEW POLICY RECOMMENDATIONS
Contact: Hallie Lewis (859) 224-2848 or Chris Scherf (302) 981-6145
The board also voted its support for the elimination of adjunct bleeder medications as well as enhanced security measures and a more severe penalty structure for medication violations.
NTRA President Alex Waldrop presented the recommendations of an RMTC committee studying the administration of furosemide and adjunct bleeder medications. In response to his report, the RMTC board voted to approve the committee's recommendations and to develop a Model Rule. This Model Rule will be presented to the Association of Racing Commissioners International (RCI) for implementation.
"This Model Rule is designed to cause the regulatory community to assume the responsibility for the race day administration of furosemide," Waldrop said. "Administration of any othermedications on race day, including adjunct bleeder medications, shall be strictly prohibited. These steps will eliminate the need for private veterinary involvement on race day."
Alan Foreman, RMTC Vice Chairman and CEO of the Thoroughbred Horsemen's Associations, presented a report on the work of the RMTC Penalty Guidelines Committee. At the recommendation of the committee, RMTC directors voted to:
Establish a June 1, 2012 deadline for racing commissions to revise the phenylbutazone threshold from 5 micrograms per milliliter to 2 micrograms per milliliter

Establish uniform penalty guidelines across racing jurisdictions

Change the current 365-day period for Category B prohibited drugs to "within two years in any jurisdiction" for a second violation and "within a five-year period in any jurisdiction" for a third violation

Develop a list of laboratory detection levels at which all positive tests in US racing will be called

Develop a list of approved therapeutic medications with appropriate corresponding withdrawal time guidelines
Chris Scherf, RMTC Vice Chairman and Thoroughbred Racing Associations Executive Vice President, provided a report from an RMTC committee studying the possibility of a pilot project to eliminate the use of furosemide in 2-year-olds; the committee will continue its work on this subject.
AAEP Racing Committee Chairman Dr. Scott Palmer reported on the Security and Surveillance Committee, which included a critical analysis of available security options and minimum standards recommended for increasing race day security. The committee will produce a model of best practices on security standards for consideration by the industry.
"The board approved a number of significant recommendations today," said RMTC Chairman Dr. Robert Lewis. "All four committees were given expanded charges to continue their work. This was a very productive meeting, and we look forward to additional recommendations from these committees at our October 6 board meeting."
In other business, the RMTC directors also heard an update from RMTC Project Manager Dr. Gregg Scoggins on the work of its Drug Testing Initiative (DTI) and ongoing therapeutic medication administration and threshold level research.
The RMTC consists of 25 racing industry stakeholders and organizations that represent Thoroughbred, Standardbred, American Quarter Horse and Arabian racing. The organization works to develop and promote uniform rules, policies and testing standards at the national level; coordinate research and educational programs that seek to ensure the integrity of racing and the health and welfare of racehorses and participants; and protect the interests of the racing public.
For additional information, visit the RMTC website at rmtcnet.com or contact Hallie Lewis, RMTC director of communications, at (859) 224-2848.
-30-
Thursday, August 04, 2011
Castellano Named TT TODAY Jockey of the Week
Castellano's mounts earned nearly $1-million last week. He landed the Curlin Stakes on July 29 aboard Turbo Compressor; the Diana Stakes (G1) on Zagora (Fr) and the Jim Dandy Stakes (G2) on Stay Thirsty, both on July 30; and the Ruffian Invitational Handicap (G1) on July 31 with Ask the Moon. He has won six Grade 1 races in 2011.
With the wins, Castellano ranks fourth in purse earnings among all North American riders for the year through Tuesday with $8,346,460.
Castellano, 33, mainly is based in New York and Florida. He came to the U.S. from Venezuela in 1997 and since has won riding titles at Aqueduct and Calder Race Course. Castellano's father-in-law, Terry Meyocks, is national director of the Jockeys' Guild.
Thursday, August 04, 2011
FIVE RETIRED JOCKEYS TO RETURN FOR ONE RACE
From Arlington Park Communications Department
Slated to take a one-day break from retirement are Hall-of-Fame jockeys Earlie Fires and Chris McCarron; two-time Arlington Park champion Mark Guidry; Patti Cooksey, who has been participating in similar Legends races the last two seasons; and 1977 Triple Crown-winning jockey Jean Cruguet.
In addition to regular win, place, show, exacta, trifecta and superfecta betting available on the race, Arlington Park will offer a wager pitting the "Arlington Fab 5" against the "Legends" in a Head-to-Head format based on a point structure. Last year, a victory by Inez Karlsson gave a group of Arlington Park riders the edge over five retired jockeys in the inaugural jockey challenge.
The top five jockeys in the Arlington Park standings at the conclusion of racing on Saturday, August 6 will represent the current jockey colony. Riding assignments for the race will be pulled by lot when entries are drawn for the Friday card on Sunday, August 7.
As of the conclusion of racing on Sunday, July 31, the top five riders in the Arlington standings were Jozbin Santana, James Graham, Eduardo Perez, E. T. Baird and Junior Alvarado. Julio Felix, Seth Martinez and Tim Thornton are just outside the Top 5 and could sneak in to race depending how they the next three days.
The five former riders will be at Arlington as part of the day's third annual "Dining With The Dynasty" fund raiser, a charity event that brings legendary jockeys from all over the country to raise funds to benefit the Permanently Disabled Jockeys Fund and the Racetrack Chaplaincy of America.
This year's event will provide ticket purchasers with a unique chance to dine and share stories with legendary jockeys. In addition to the five listed above, scheduled to appear are Walter Blum, Bill Boland, Angel Cordero, Pat Day, David Erb, Jackie Fires, Sandy Hawley, Laffit Pincay Jr., Randy Romero, John Rotz, Ray Sibille, Ron Turcotte and Bobby Ussery.
Ticketholders will spend an afternoon in Arlington's popular Mr. D.'s Sports Bar with the legendary and Hall of Fame jockeys who will share stories, reminisce about racing experiences and autograph racing memorabilia. Tickets are on sale now at www.arlingtonpark.com and the Arlington Park box office.
In addition to "Dining With The Dynasty", many of the riders will appear at Breakfast at Arlington from 8 a.m. until 9:30 a.m. on Friday, August 12 and will participate in a public autograph session from 10:30 a.m. until Noon on Arlington Million Day, Saturday, August 21.
Wednesday, August 03, 2011
ARLINGTON PARK JOCKEYS TO APPEAR AT PARTNERS FOR PROGRESS EVENT
From Arlington Park Communications Department
By partnering client, horse, volunteer and community, Partners for Progress offers riding opportunities that challenge disabled individuals to achieve their maximum potential which rewards their efforts in growing physically, mentally and socially.
Arlington Park jockeys will spend the day with the kids in the program. They will spend time with the kids and also participate in the program by helping the kids ride the horses. Horses have helped the program participants grow emotionally, physically, and socially and the chance to engage with professional jockeys will be a great treat and aid in their progress. The jockeys will be dressed in racing silks and will bring goggles, water bottles, and jockey helmets for the participants.
In addition, during the month of August jockeys, racing staff and Arlington Park employees will be encouraged to donate products on Partners For Progress' wish list which include needed office and horse supplies.
Jockeys' Guild Membership Advantage
Jockey's Guild Annual Assembly
George Woolf Award
Click here to learn more
Jockeys' Guild Membership Application