Jockeys Guild News and Articles
Friday, June 25, 2010
Leparoux and Velazquez Named to Thoroughbred Times 40 Under 40
The inaugural class for the feature was determined by a vote of the TIMES editors and writers after a widespread polling of industry participants yielded nearly 100 nominations. The group represents all segments of racing, from the boardrooms and stable areas of the racetracks, to the sales ring, to the farms, and everywhere in between.
The individuals were asked a series of questions and the detailed survey produced a variety of answers. The group features 18 residents of Kentucky, including 14 from Lexington and surrounding communities, along with six from New York and four from California.
In earning the 2009 Eclipse Award as outstanding jockey, Julien Leparoux entered a rather exclusive club.
Leparoux is one of four riders to earn the Eclipse Award for outstanding apprentice jockey, which he secured in 2006, and the outstanding jockey award. The previous three riders to win both awards—Steve Cauthen, Chris McCarron, and Kent Desormeaux—are all members of the Racing Hall of Fame.
While Leparoux's best classic finish came in 2008 when he guided Macho Again to a Preakness Stakes (G1) runner-up finish, he has fared well in racing's top events, with five Breeders' Cup World Championship wins. His three victories in last year's Breeders' Cup at at Santa Anita Park helped him secure the Bill Shoemaker Award as top rider at the championships.
Leparoux, 26, grew up near Thoroughbred epicenter Chantilly, France. His father worked as an assistant trainer and Leparoux grew up around horses and knew at a young age he wanted to be a jockey.
Leparoux made his U.S. debut with a win at Saratoga Race Course in 2005 and secured his first stakes win on February 11, 2006, on Cat Quatorze in the Likely Exchange Stakes at Turfway Park, where he would pile up victories. In 2006, Leparoux led all U.S.-based jockeys in wins with 403.
Leparoux currently is recuperating from a back injury suffered in a May spill at Pimlico Race Course. He hopes to return to racing this summer.
Date of birth:
July 15, 1983
Birthplace:
Senlis, France
Residence:
Louisville
Title:
Jockey
Family:
Single
Career:
Has ridden professionally in the U.S. since 2005
Breeders' Cup winners:
Forever Together, 2008 Emirates Airline Breeders' Cup Filly and Mare Turf (G1); Furthest Land, '09 Breeders' Cup Dirt Mile (G1); Informed Decision, '09 Sentient Jet Breeders' Cup Filly and Mare Sprint (G1); Nownownow, '07 Breeders' Cup Juvenile Turf; She Be Wild, '09 Grey Goose Breeders' Cup Juvenile Fillies (G1)
Other top races won: 2009 Santa Anita Handicap (G1), Einstein (Brz); '09 OBS Sunshine Millions Classic Stakes (G2), It's a Bird; '07 CashCall Mile Invitational Stakes (G2), Lady of Venice (Fr)
Career goals:
"To win the most prestigious races in the world."
Biggest professional achievement:
"Winning the 2008 Breeders' Cup Filly and Mare Turf with Forever Together."
Favorite horses:
Forever Together, Ball Four
Outside interests:
Golf, soccer, go-karts
Favorite food:
Pasta
Role models:
Olivier Peslier, Christophe Soumillon, Jerry Bailey, Gary Stevens
JOHN VELAZQUEZ - JOCKEYS' GUILD

John Velazquez has succeeded at winning races on the track while providing industry leadership off the track.
The two-time Eclipse Award winner as outstanding jockey has excelled on racing's biggest days and delivered consistency in securing riding titles at some of the most prominent meetings in the U.S.
Velazquez secured his first classic win in 2007 when he guided Rags to Riches to victory in the Belmont Stakes (G1), the first Belmont win by a filly in 102 years. In 2004, Velazquez secured the Bill Shoemaker Award as top Breeders' Cup jockey when he guided Speights¬town to victory in the Breeders' Cup Sprint (G1) and Ashado to a win in the Breeders' Cup Distaff Presented by NexTel (G1).
Through 2009, Velazquez had finished as the leading rider at New York Racing Association tracks four times. He won riding titles at Saratoga Race Course in 1998, 2003, and '04.
Through June 13, Velazquez had won 4,330 races and his mounts had earned $236,724,925.
Velazquez's stardom on the track helped earn him a spotlight that he has used in his industry leadership position as chairman of the Jockeys' Guild. Elected to the chairmanship in 2006, Velazquez has worked with national managers Dwight Manley and Terry Meyocks, who currently manages the Guild, to bring it out of bankruptcy and back to a leadership position.
Date of birth:
November 24, 1971
Birthplace:
Carolina, Puerto Rico
Residence:
West Hempstead, New York
Titles:
Jockey, chairman of Jockeys' Guild
Education:
Entered Puerto Rico's jockey school in 1988
Family:
Married, two children
Career:
Two-time Eclipse Award-winning rider
What book are you currently reading?
Mad Money
, by Jim Cramer
Last movie you saw at the theater:
Shrek: The Final Chapter
What's on your iPod?
Top 40, some Spanish music
Biggest professional achievement:
Winning Eclipse Awards
Biggest personal achievement:
Wife and kids
Outside interests:
Stock market
Personal motto:
"When it's meant to be, it's meant to be and when it's not, it's not."
Why did you get involved in racing?
"First of all, I liked horses; secondly, I needed a job."
Julien Leparoux
John Velazquez
Thursday, June 24, 2010
BOREL, DAY AND OTHER CHURCHILL DOWNS JOCKEYS TO VISIT KOSAIR CHILDREN'S HOSPITAL THURSDAY, JUNE 24
The visit to Kosair Children's Hospital by the jockeys is an annual affair that both the young patients and riders eagerly anticipate.

The jockeys are schedule to arrive at the hospital at 231 East Chestnut at 9:30 a.m. (all times EDT).

They will visit patients throughout the hospital and depart around 11:30, in time to return to the track for Thursday's first race at Churchill Downs 12:45 p.m.
Along with Borel and Day, jockeys scheduled to participate in the visit to Kosair Children's Hospital include

Robby Albarado

,

Corey Lanerie

,

Shaun Bridgmohan

,

Jamie Theriot

,

Francisco Torres

,

Jon Court

,

Larry Melancon

,

Joe Johnson

,

Larry Sterling Jr., Tony Farina

,

James Lopez

,

Randall Toups

,

Dean Mernagh

and apprentice jockey

Peter Artieda

.

Churchill Downs Communications Department
Thursday, June 24, 2010
Desormeaux Named Jockey of the Week
Desormeaux won four races with 16 starters that earned $451,650 during the period.
The Colonial Turf Cup was the first win for Desormeaux aboard Paddy O'Prado after finishing second in the Toyota Blue Grass Stakes (G1), third in the Kentucky Derby Presented by Yum! Brands (G1), and sixth in the Preakness Stakes (G1).
A three-time Eclipse Award winner, twice as outstanding jockey (1989, '92) and once as outstanding apprentice jockey ('87), Desormeaux was elected to the Racing Hall of Fame in 2004.
Desormeaux, 40, has won 5,302 races from 27,284 mounts that had earned $234,827,168 through Monday. Thoroughbred Times TODAY
Thursday, June 17, 2010
Garrett Gomez Jockey of the Week
Gomez led all North American riders by purse earnings for the week ended June 16 with $613,917. Gomez also won the Northern Dancer Stakes (G3) last week aboard Colizeo.
As of Tuesday, Gomez ranks third among all North American jockeys by purse earnings for the year with $5,613,313, trailing only Rafael Bejarano and Ramon Dominguez.
Gomez, 38, led U.S. jockeys by purse earnings in 2006 and '09. He also won the Eclipse Award as outstanding jockey in 2007 and '08. He has won 3,362 races from 19,394 starts and amassed $170,474,108 in purse earnings through Monday.
Gomez won the Gulf News Dubai Golden Shaheen (UAE-G1) aboard Kinsale King during the inaugural Emirates Airline Dubai World Cup (UAE-G1) card at Meydan Racecourse on March 27. Thoroughbred Times TODAY
Monday, June 14, 2010
Disqualified stakes winner reinstated
The Ontario Racing Commission, which heard the appeals of Marsh Side's owner, Robert Evans, and jockey, Javier Castellano, on May 26, released its decision on Friday afternoon.
Marsh Side had finished first in the Northern Dancer, which was run last Sept. 23 and offered Grade 1 status and a winner's share of $450,000.
But the stewards disqualified Marsh Side and placed him fourth, ruling that the horse had come in and interfered with both the third-place finisher, Quijano, and fourth-place Champs Elysees in the stretch run.
The stewards did not post the inquiry sign, but Garrett Gomez, rider of Champs Elysees, claimed foul against both Marsh Side and Quijano.
Just As Well was elevated to the top spot, with Quijano and Champs Elysees each moving up a notch.
Evans appealed the disqualification and Castellano appealed a three-day suspension resulting from the alleged infraction.
A racing commission appeal panel heard testimony from witnesses including Castellano; Woodbine steward Richard Grubb, a former jockey; retired jockey Jerry Bailey; Robbie King, head of the Jockey's Benefit Association of Canada and also a former rider; former steward Bernie Hettle; and trainer Mark Casse.
The racing commission's panel, in its written reasons for the decision, found that the onus was on the administration to prove that Marsh Side and Castellano had violated the rules, and that neither the testimony nor the official video could reasonably demonstrate that fact.
The ruling cited the importance of new evidence comprised of "a split formatted screen video" with "the pan and head shot juxtaposed.
"This vantage point provides a unique and revealing aspect of the race that clearly supports the position of the applicants," read the rulilng.
Neither Andrasch Stark, the rider of Quijano, nor Gomez provided testimony
Monday, June 14, 2010
CASTELLANO WINS FOUR SUNDAY AFTERNOON AT BELMONT
Castellano's banner day started off with a front-running victory in race 2 aboard favored Cougar Cruise ($6.90), setting tepid fractions and holding on to win by 1˝ lengths. His next mount didn't come until race 5, but he made it count, swinging the second betting choice Fashion Insider ($8.20) wide for the stretch run and getting up to win by a head over favored Remark.
The 32-year-old Venezuelan pilot made it 3-for-3 in race 7, overcoming a slow start with favored Storm Showers ($7.20) and surging in the final furlong to triumph by three-quarters of a length.
After finishing fifth and eighth in races 8 and 9, respectively, it was back to business in race 10 for Castellano. His mount, Alltiffedoff ($9.50), led the way to the top of stretch, was passed by two rivals, and re-rallied impressively on the outside in the final hundred yards to prevail by a head as the second choice.
On Saturday, May 29, Castellano also brought home four winners from six mounts. Through Sunday, the rider has 32 wins, bringing him within one victory of current leader Ramon Dominguez. NYRA Communications Department
-30-
Friday, June 11, 2010
Jockeys at Annual Visit to Ronald McDonald House
Jockeys in the 142nd running of the $1 million Belmont Stakes, Javier Castellano, Jermaine Bridgmohan, Jean-Luc Samyn, Rajiv Maragh, John Velazquez and Nick Santagata took a detour from the racetrack to mingle with children at McDonald House. Clad in their colorful silks, the riders posed for photographs, assisted with pony rides and distributed gifts of personally autographed riding goggles and hats.
"This is a very exciting event for our resident families," says RMH-LI Director of Development and Communications Matthew Campo. "Meeting the jockeys is always fun for everyone. We wish them good luck in the race.
Castellano, Maragh and Velazquez had mounts in this year's Belmont, Castellano was aboard Interactif, Maragh rode Uptowncharlybrown and Velazquez was on Fly Down across the finish line. It must be noted that Velazquez won the 2007 race with the filly Rags to Riches, the first female to win the Belmont in 102 years.
The Ronald McDonald House of Long Island is a 'home-away-from home' for families who are caring for seriously ill children undergoing medical treatment in area hospitals. Located in New Hyde Park on the campus of the Steven and Alexandra Cohen Children's Medical Center of New York (formerly Schneider Children's Hospital), the House accommodates families in a warm and supportive environment.
Thursday, June 10, 2010
Bassett, Millerick, Pierce Elected to HOF
The Historic Review electees join horses Azeri, Best Pal, and Point Given, and jockey Randy Romero, elected through the contemporary categories voting process, in the class of 2010. The group will be inducted Aug. 13 in a ceremony at 10:30 a.m. EST at the newly renovated Fasig-Tipton sales pavilion.
A son of the mighty sire Lexington, Harry Bassett was a champion at age 2 in 1870, unbeaten champion at 3, and a top handicapper at 4. He possessed tremendous stamina and won many of the most prestigious races of his day. Harry Bassett completed his career at 4 with a record of 23-5-3 from 36 starts and earnings of $55,920.
Bred by A.J. Alexander and raised at Woodburn Farm in Kentucky, Harry Bassett was owned and trained by Col. David McDaniel.
In a career that spanned almost 50 years, California native Michael Ernest "Buster" Millerick became known as one of the best trainers on the West Coast, winning titles at Santa Anita, Del Mar, and Hollywood Park.
Millerick achieved his greatest success with Native Diver, a California-bred son of Imbros, inducted into the Hall of Fame in 1978. Under Millerick's care, Native Diver won 37 races, including 34 stakes, and raced for seven seasons.
Millerick, who earlier worked for Hall of Famer Tom Smith, won a total of 1,886 races and trained 54 individual stakes winners. Along with Native Diver, Millerick's top horses included Countess Fleet, Count of Honor, Fleet Nasrullah, George Lewis and Kissin' George.
Don Pierce rose from humble racing roots to become one of the big money riders of the 1960s and '70s. A native of Clebit, Okla., Pierce began his career with a victory at New Mexico's Ruidoso Downs in 1954 and went on to become one of the most accomplished jockeys on the Southern California circuit.
He led all North American jockeys with 32 stakes winners in 1973. In addition to his success in California, Pierce also won a riding title in New York at Belmont Park and captured several of Saratoga's most prestigious races, including the Hopeful and Jim Dandy.
Among Pierce's top mounts were Flying Paster, Hill Rise, Quack, Taisez Vous, La Zanzara, Triple Bend, Kennedy Road, Modus Vivendi, Forceten, Minstrel Miss, and Princessnessian.
Pierce was presented the George Woolf Memorial Jockey Award in 1967. After 30 years in the saddle, Pierce retired with 3,546 wins--351 of them stakes--from 28,740 mounts, for purse earnings of $39,018,422.
"I've had a lot of good things happen to me, but this tops them all," said Pierce of the Hall of Fame induction. The retired rider, 73, hung up his riding tack more than 25 years ago. "I won a lot of big races and I've had so many good memories…I have them on my wall at home."
Pierce said one of his favorite moments in racing involved a horse named Outing Class, winner of the 1962 Hopeful Stakes at Saratoga.
"That was a great memory, and it was a feather in my cap, and it helped me get started in that part of the country," he said.
"I also rode the horse Silky Sullivan after he flopped in the Kentucky Derby and came back down to California," added Pierce, who rode the horse to victory in the 1958 Santa Anita Derby. "He brought the fans out by the thousands and all the publicity he got, I got, and he kind of put me on the lead. So I have fond memories of him."
Following his riding career, Pierce trained horses for more than a decade, then had a short stint as a jockey's agent. He is now an avid golfer in his retirement.
The Blood-Horse
Thursday, June 10, 2010
Mike Smith Named Jockey of the Week
The win gave the 44-year-old journeyman his first victory in the Test of the Champion and allowed him to join the fraternity of riders who have won each of the Triple Crown races. Smith won the 2005 Kentucky Derby (G1) aboard Giacomo and the '93 Preakness Stakes (G1) aboard Prairie Bayou.
Smith has been known most recently as the regular rider aboard two outstanding female racehorses: 2002 Horse of the Year Azeri and unbeaten two-time champion older female Zenyatta, who will go for 17 consecutive career victories on June 13 in the Vanity Handicap (G1) at Hollywood Park. Smith also was the regular rider of 1994 Horse of the Year Holy Bull.
Since beginning riding in 1982 in New Mexico, he has won 4,891 races and his mounts in North America have earned $210,041,669.
He ranked 11th nationally among jockeys with $3,994,892 in earnings through Tuesday and has done so with fewer mounts than anyone in the top ten.
Wednesday, June 09, 2010
KY Commission Approves Jockey Ad Regulations
During its monthly meeting June 8, the commission approved the new regulations with a stipulation that they be implemented as emergency regulations. Lisa Underwood, executive director of the KHRC, said the advertising regs would go into effect June 15.

Under previous regulations, the commission rules stipulated various conditions that must be met by the respective parties before the advertisements, in the form of logos worn by the jockeys on their pants, could be used.

In addition to requiring that the agreements be filed with the KHRC, the new regulations also provide for written approval before someone else could act as agent on behalf of an owner in connection with the ads, and provide that any advertising agreements must be approved two days prior to the race card where the ads are to appear.

The new regulations had been approved by the KHRC rules committee, which conducted a lengthy discussion into the matter. During the rules committee meeting, representatives of The Jockeys' Guild, horsemen's groups, and racetracks had complained that the transparency being sought by the commission regarding financial terms of the advertising agreements could have a negative effect on the ability to attract sponors.

"I've heard the arguments that someone would get a competitive advantage, and that the public is not entitled to that information, and that sponsors don't want their deals publicized," said Ned Bonnie, a commissioner and one of three attorneys who serve as the rules committee. "I and members of the committee reject those arguments."

Terry Meyocks, national manager for the Guild, said several aspects of the regulations, including releasing the terms of the agreements to the commission, will have a negative impact.

"It is set up to fail," Meyocks said, noting that Kentucky should have patterned its rule after one that is in effect in California.

During the rules committee meeting, the KHRC staff agreed to look into the state's open records laws and, when possible, would redact any proprietary business information before releasing the information publicly. The Blood-Horse
Wednesday, June 09, 2010
Jockey advertising rules amended
The Jockeys' Guild, a national organization representing riders, had objected to the provision requiring disclosure of the agreements to the racing commission, arguing that the requirement could have a chilling effect on the willingness of sponsors to sign advertising agreements if the terms of the contracts were available to competitors.
"I've heard the arguments that someone would get a competitive advantage, and that the public is not entitled to that information, and that sponsors don't want their deals publicized," said Edward Bonnie, a member of the committee who worked on the amendments. "I and members of the committee reject those arguments."
Terry Meyocks, the president of the guild, criticized the amendment after the vote and said that the new regulations would discourage sponsors from reaching agreements with riders.
"The way it's set up now is that it is set up to fail," Meyocks said.
Although the regulations will go into effect immediately, the rules will still need to pass legislative review. Mindy Coleman, the legal counsel to the Guild, said the organization will explore whether to file objections to the new amendment as it goes through the legislature.
Advertising deals for riders are extremely rare in the racing industry, though some sponsors have sought contracts with jockeys for high-profile events like the Kentucky Derby or the Breeders' Cup, which this year will be run at Churchill Downs in Louisville. A flap over advertising contracts that occurred during this year's running of the Derby spurred the commission to rewrite the rules.
The amendment technically requires the terms of the agreements to be disclosed to the commission, but it was unclear on Tuesday whether the language also required disclosure to members of the public.
"The first time that might come up is the Breeders' Cup this year, so we're going to have to figure that out before then," said Robert Beck, the chairman of the commission, after the meeting. The Daily Racing Form
Wednesday, June 09, 2010
Horse Racing Commission OKs new jockey advertising rule
Representatives of jockeys, owners, trainers and Churchill Downs all have objected to the
disclosure provision, saying many sponsors may not want that to be disclosed to a state agency and, possibly, the public.

Commission
member Ned Bonnie, whose rules committee drafted the new rule, said promoting public confidence in racing is more important
and justifies disclosure.

"Transparency is like soap," he said. "It cleans up a lot of things."

The rule will be implemented later this month under an emergency regulation, commission
Executive Director Lisa Underwood said. A permanent change would be subject to
legislative review.

An attorney for The Jockeys' Guild said the organization
will seek to have the regulation changed as it is reviewed by legislative committees.

The Guild wants the commission to increase mount fees for riders in conjunction with the advertising changes and, because of that, opposes the use of an emergency regulation that would take effect when filed. Greg Hall/Louisville Courier-Journal


Tuesday, June 08, 2010
Jockey Advertising Causes Controvery
If forms had to be filed two days before advertising was worn in a race, manager Terry Meyocks asked what a rider should do two days before a Wednesday race if there aren't any officials at a dark track.

"I hope you have a problem like that on Wednesday," said Burr Travis, a Kentucky Horse Racing Commission member on the committee that recommended changes in the advertising rules.

Travis' point was that there isn't much interest among advertisers to pay for exposure on a quiet Wednesday card.

His comment illustrated how jockey advertising hasn't yet become the everyday presence that some hoped it could be, aside from major races like the Kentucky Derby.

The full racing commission will consider changes on Tuesday that are aimed at eliminating confusion seen at this year's Derby between owners and jockeys over forms and revenue splits with a Dodge Ram sponsorship.

The new rule, among other things, would restrict the forms that could be used for agreements between owners and trainers in an effort to simplify the process. The most controversial provision would require all terms of the sponsorship deal to be disclosed in writing to the racing commission, potentially opening them up to public scrutiny.

Regardless of how the rulemaking plays out, opinions differ on the potential for jockey advertising, which has been an issue on several occasions in the last seven years. While racetracks have had sponsorship deals, the riders traditionally weren't allowed to.

Some riders wore Jockeys' Guild logos in the 2003 Derby and were fined. A 2004 ruling by U.S. District Judge John G. Heyburn II cleared the path for advertising on riders' pants. Heyburn ruled that the advertising was a form of protected speech and that the state's rule didn't provide an adequate justification for restricting it.

Commission member Ned Bonnie said he has "learned to live with" advertising on the pants -- something that for years was viewed as an affront to tradition -- but he said he still doesn't want horse racing to turn into car racing, where drivers' uniforms are full of advertising.

Bonnie, the head of the commission's rules committee that made the recommendation, also said he doesn't see advertising spreading to routine races, although rules need to be written that way in the event advertising does become more commonplace.

"It's a moot question in the $5,000 maiden race," Bonnie said, explaining that he doesn't believe major advertisers would be attracted to the races with limited fan interest.

Meyocks, however, said he believes advertising could have a more significant impact, but the requirement for jockeys to gain race-by-race approvals works against it.

"It's set up for failure," he said.

Meyocks said jockeys are largely willing to disclose advertising terms to owners.

"We all need to be working together with the tracks, with the horsemen, with the owners," he said.

Meyocks said that riders also are willing to share the revenues with owners and charities to benefit more than just jockeys.

Commission member Tom Conway has said he wants all jockey advertising money to go to charity, arguing that the rider wouldn't be there without the owner's horse.

But Meyocks said there are riders who need the money.
this story originally appeard in the Courier-Journal
Tuesday, June 08, 2010
Birzer reaches 2000th Milestone
Watomgo stalked the leader under Birzer before taking a narrow lead in early stretch. Birzer guided the four-year-old Blimin Affair gelding in the one-mile claiming race to victory in 1:39.76 on a track rated as fast.
A 36-year-old native of Hutchison, Kansas, Birzer rode his first winner aboard East of Eaton at River Downs on June 24, 1992. More than 800 of his victories hae come at Prairie Meadows, where he is currently leading rider.
Thoroughbred Times TODAY
Friday, June 04, 2010
MENA HITS CHURCHILL DOWNS MILESTONE
"I didn't realize I was that close," said Mena, who began riding here in the 2006 Spring Meet.
The milestone victory came on Dubai Majesty in the Winning Colors (GIII) and gave Mena his third win of the afternoon and vaulted him into a tie for second in the rider standings with Shaun Bridgmohan with 20, five fewer than Calvin Borel.
"It was the first time I had ridden her in a race although I had worked her a long time ago," Mena said of the 4 ˝-length victory that was never in doubt. "It felt good (to win like that). She ran real hard."
Mena's solid meet marks a resurgence of sorts from last year when he had only seven winners in the fall and a Spring Meet when his victory total dropped to 44 from 65 in the spring of 2008 that included a five-win day on May 8.
"I am working hard," said Mena, who will turn 24 on Breeders' Cup Day, Nov. 6 here this year. "People are giving me opportunities again."
The next opportunity for Dubai Majesty has not been determined, according to Dennis "Peaches" Geier, assistant to trainer Bret Calhoun.
"I know they (owners Martin Racing Stable and Dan Morgan) want to run her in the Turf Amazon again, but that is not until September," Geier said of the race at Philadelphia Park in which Dubai Majesty ran third last year. "I am not sure what would be next."
After taking the Winning Colors last year, Dubai Majesty traveled to Calder and ran in the Grade I Princess Rooney in mid July.
The Winning Colors triumph served as redemption for a last-place showing in the Humana Distaff on May 1 on a sealed, sloppy track.
"We have no idea what happened in the Humana," Geier said. "It was not the slop; she likes the slop." Churchill Downs Communications Department
Thursday, June 03, 2010
Lone Star comes up Rosie for Handicap
"Anna, can I get you to sign this?" a fan asked as Anna Rose "Rosie" Napravnik returned to the jockeys' room after winning the $300,000 Lone Star Park Handicap on Redding Colliery. Many fans, as it turned out, asked for an autograph, and she happily obliged, even while unaware that she occupied a unique place in the history of Texas racing.
Hall of Fame trainer Bob Baffert had sent three horses here for Lone Star Million Day, including Mythical Power, the winner of last year's local derby and this year's Texas Mile. Martin Garcia, the rags-to-riches jockey who had won the Preakness on Lookin At Lucky, was here to ride the Baffert horses. And Bill Casner of Flower Mound, whose Super Saver had won the Kentucky Derby, was on hand for the festivities. But the diminutive redhead and the powerful gray stole the show.
As expected, the speedy Euroears shot to the lead immediately, and Napravnik put Redding Colliery in a perfect stalking position, about a length back, as they went through the opening three-quarters of a mile in 1:10.66. In the second turn, Napravnik and Redding Colliery went after the lead, and they very quickly dispelled any doubt about the outcome.
"I gave him a nudge, and he kind of kicked into another cruising gear," Napravnik said. "I had to sit back on him a little bit as not to move too early, but then he just cruised home."
Redding Colliery won by nearly seven lengths, completing the 1 1/16 miles in 1:42.13. Awesome Gem, who has earned nearly $2 million in his career, rallied to finish second. And Euroears held on gamely for third, another 6 1/2 lengths back. Mythical Power, who seemed a little hot and bothered in the post parade, finished last in the field of eight as the 8-5 favorite.
"He seems to be an improving horse, and the two turns helped," explained Redding Colliery's trainer, Kiaran McLaughlin, from New York. A 4-year-old son of Mineshaft, Redding Colliery had vanned from New York, where his trainer is based, to Kentucky, where he caught a flight to Texas, arriving at Lone Star on Wednesday.
Last year, Redding Colliery raced in Dubai. And coming to this country, he initially sprinted. But McLaughlin explained that he always thought the strikingly handsome colt would improve when he stretched out around two turns. And doing so, he has won three of four this year, his only loss coming in the $1 million Charles Town Classic, where he finished third.
"But that was around three turns," McLaughlin joked, pointing out that he thinks Redding Colliery could develop into one of the country's top horses. "And Rosie fits him perfectly."
Learning that she had become the first woman to win a major stakes race in Texas, Napravnik expressed surprise. After all, she has been a regular visitor to winner's circles for years. In 2006, after she was the leading jockey in all of Maryland with 300 victories, she was the runner-up in the voting for the Eclipse Award honoring the nation's top apprentice jockey. Injuries compromised her in 2007 and again in 2008. But last year, she rode 184 winners, with her mounts earning more than $5 million. And this year, the round-faced 22-year-old who possesses a charm that could disarm a badger and a grip that could send a grown man to his knees ranks 27th in the national jockeys' standings.
With the victory, his fifth in 15 starts, Redding Colliery earned $174,000 and boosted his career earnings to $402,853. It was the first graded, or major, stakes victory for his owners, Fitriani and Jim Hay, who race horses in Dubai, England and South Africa.
Gary West/Fort Worth Star-Telegram
Thursday, June 03, 2010
Valet Matty Brown Dies
Brown served as a valet at Churchill Downs and Keeneland for the last four decades. Among the riders he worked for were Angel Cordero, Jr., Craig Perret, Earlie Fires,Jacinto Vasquez, Braulio Baeza, Chris McCarron, Darrell Haire, E.T. Baird and John Velazquez.
A memorial service will be held at Churchill Downs Friday at 11 a.m. In lieu of flowers, donations may be made to the Jockeys Guild at 103 Wind Haven Drive, Nicholasville, Ky 40356.
Thoroughbred Daily News
Wednesday, June 02, 2010
Migliore Hangs Em' Up
A winner of 4,450 races--3,959 of which were at the New York Racing Association tracks of Belmont, Aqueduct, and Saratoga--"The Mig's" proclamation came three days before the running of the 142nd Belmont Stakes (gr. I).
"It's no big surprise why we're here, my career as a jockey is over," said Migliore, a 46-year-old native of Brooklyn, N.Y. "It's not by choice: I was in the Doctor's office on Wednesday of last week and he assured me that I would never ride another Thoroughbred again. He works on many NFL players and said if you have a level two fusion, you have to retire. I have a level four fusion."
Migliore wore a neck brace to support repairs done in a May 4 operation, in which two plates and eight screws were inserted into his neck. He said doctors fused the C-4, C-5, C-6, and C-7 vertebra, along with the T-1 vertebra in his back. The injury had resulted from a Jan. 23 racing accident at Aqueduct where he was thrown from his mount, Honest Wildcat. In addition to other serious injuries sustained over the years, Migliore had fractured his neck as a 24-year-old.
"I still held out hope until last Wednesday; then it became apparent that it was time to turn the page and start the next chapter," he said. "Racing and horses have been so good to me that it's hard to let go. In my mind I knew it had to end sometime, but in my heart I wanted it to go on forever."
Among more than 30,000 runners ridden by Migliore in his 30 years in the saddle were Funny Cide, Kip Deville, and Wando . Desert Code gave him his only Breeders' Cup victory in the inaugural running of the Breeders' Cup Turf Sprint in 2008. He owns 12 riding titles on the NYRA circuit.
"Horses have given me everything in life, everything good in my life stems from horses," Migliore said. "The emotion that I feel now is just knowing I won't get to do it now, and that makes me sad. But I'm also understanding of the fact that my situation is a lot better than a lot of other guys, and I'm sure many people would trade places with me having to make this announcement. The biggest thing I feel is gratitude that I got to live my dream."
Migliore began riding races in 1980 at the age of 16. The next year, he was the recipient of the 1981 Eclipse Award for Outstanding Apprentice with 269 wins, and was also awarded the Eddie Arcaro Award from the New York Turf Writers Association that year and in 1985.
He won the 2003 Mike Venezia Memorial Award from NYRA for "extraordinary sportsmanship and citizenship," and was the leading jockey of New York-breds in 2004 and 2005. In 2008 he was given the George Woolf Memorial Jockey Award, an honor bestowed upon riders whose careers and personal character bring respect and esteem to the sport of Thoroughbred racing.
In New York, his top victories came aboard horses like Hidden Lake, Artie Schiller, Better Than Honour, Catinca, and Saratoga legend Fourstardave.

While he raced mainly in New York, he did move to Southern California in the fall of 2006. He returned to New York in the summer of 2008.

Long known for his smarts on a horse, his biggest wins outside of the NYRA circuit came aboard horses likeFriends Lake in the 2004 Florida Derby (gr. I), Volga in the 2003 E.P. Taylor Stakes (Can-IT), and Tenski in the 1998 Queen Elizabeth II Challenge Cup (gr. IT). While in California he won three grade I races in 2007 with Student Council (Pacific Classic), Kip Deville (Frank Kilroe Mile), and Norfolk(Dixie Chatter).
In all, Migliore won 15% of his 30,102 mounts in North America. Along with 4,450 wins, he had 3,985 seconds, and 3,728 thirds. He has just over $160 million in purse earnings. He has 178 graded stakes victories to his resume.

"I'm so fortunate that I got to start my career here at Belmont and finish on the big stage in New York," he said. "I'm very appreciative of all the opportunities that I was given and all of the people who let me ride great horses."
Migliore also thanked his four children and wife, Carmella.
"She pulled me though a lot of times when I didn't think I could continue, and her strength was my strength," he said. "You can't be afraid to fail; you have to go out there and try, and if you fall on your face, you fall on your face. But the people I've always admired dust themselves off and get up and go on, and that's what I'm trying to do at this time."
Migliore said he hadn't made any decisions as to whether he would pursue a full-time career in the racing industry, but he mentioned Thoroughbred retirement as a charity close to his heart.
"I want to be as big an advocate as I can for retired Thoroughbreds and give back to the horses that have given me so much," he said. "I want to make sure every horse is given the respect they deserve."
By Claire Novak and Evan Hammonds/
The Blood-Horse
Wednesday, June 02, 2010
Racing Silks in Every Color, Provided You Wear a Small
There are thousands of these colors, horse racing team uniforms called silks that are worn by jockeys at Belmont Park, site of Saturday's Belmont Stakes.
Each is different, if only slightly so, from the one next to it, with designs meant to distinguish horses of different owners whenever and wherever they race. Each was approved and registered by the Jockey Club. And each was carefully sewn to specification, quite possibly by two sisters who live a few miles from Belmont Park.
Without silks, a race would be a colorless herd of horses thundering down the backstretch. It might be hard to tell the Kentucky Derby winner Super Saver from the Preakness Stakes champion Lookin at Lucky.
"People do identify with silks," said Dr. Ted Hill, steward of the Jockey Club, which oversees the silks registry in New York, which includes more than 31,000 one-of-a-kind designs. "You know where your horse is in a pack."
Contrary to the name, silks — a pullover jacket and matching cover for the helmet — are rarely made from silk these days. Most are nylon, but an increasing number of owners and jockeys prefer the streamlined properties of tight-fitting material like Lycra.
Dressing competitors in identifying colors dates at least to the ancient Greeks and Romans. But horse racing's uniforms are far less simple than they might seem, especially in New York.
Silks designs generally are not regulated around the country. But if owners expect to race a horse in New York, whether on a cold winter's day at Aqueduct or in June in the Belmont Stakes, they must register the silks with the Jockey Club. And that will lead them to an office where Lee Weil and Mary Keiser sit.
"Blue and white stripes," Keiser said over the phone to someone in the Color Room, describing a stable's design. "White sleeves. Blue hoop. O.K.?"
The Jockey Club has registered silks for more than 100 years. On a recent day, Keiser held the application for No. 31,632. But there is little fear of running out of design combinations.
The back of the application for the Jockey Club's silks registry shows 38 patterns available for the body of the jacket, from solid to 4-inch checks, diagonal stripes to a single 10-inch circle, 2 ˝-inch dots to crossed hashes.
Sleeves offer 19 other possibilities, from hoops (horizontal stripes) to chevrons, blocks to stars, diagonal quarters to diamonds.
The palette is virtually infinite, allowing anything but navy blue, which looks too much like black. The trend is toward fluorescent colors, and Weil and Keiser see some improbably loud combinations.
"You're happy, because you know that combination is available," Keiser said. "But I think some people are colorblind."
Add the myriad choices to the design flourishes that owners request — as simple as a single initial or as ornate as flowers — and combinations are practically limitless.
Still, there are parameters.
"One guy wanted to do a naked lady silhouette," Keiser said. "Another guy got really mad because he had 'Mother' on his silks. He had raced in California. But that wasn't going to fly here."
The arbiter of taste is Hill, who works from an office adjacent to Weil and Keiser's. Generally, no copyrighted logos (business owners and proud college alumni like to promote their favorite brands) or vulgarities are permitted. Like the Supreme Court and its view of pornography, Hill knows an improper design when he sees it.
Advertising on jockey pants is permitted these days, but Hill hopes never to see such commercialism reach the upper body.
"Once you put it on the silks — this isn't Nascar," Hill said.
A few miles away in Garden City is a tidy two-story home where a seemingly impossible number of silks in the Color Room originate. And in a sewing room sits 62-year-old Antoinette Brocklebank.
She and her sister, Anna Marie Miceli, married jockeys they met at their mother's Italian restaurant near Monmouth Park in New Jersey. In the mid-1970s, Brocklebank made a set of silks for her brother-in-law, Mike Miceli. Then she made some for her husband, Joe, on his birthday.
"When the jocks were out in the paddock, talking to owners, they'd say, 'Joe Brocklebank's wife does silks,' " she said. "That's how it started. All word of mouth. I've never done any advertising."
Soon, one design sewn by Brocklebank — black body, yellow yoke, black and yellow sleeves, yellow cap — rode atop Seattle Slew. He won the Triple Crown in 1977, and Brocklebank went on to sew the colors for countless stables. She became known as the Betsy Ross of Silks.
By her estimation, she has dressed jockeys aboard nine Kentucky Derby winners and 25 total winners of Triple Crown races. She might have had another this year with Eskendereya, the early Derby favorite who did not race because of a leg injury.
Brocklebank has shared the work with Miceli, her younger sister, for nearly 30 years. The two live seven blocks apart, have straight, dark hair and finish each other's sentences. Brocklebank's cellphone plays Bon Jovi's "Livin' on a Prayer" when it rings. It does, frequently, with orders.
The shelves and closet of Brocklebank's sewing room are crammed with bolts of brightly colored cloth, and more is kept in the basement. She has five sewing machines, a bank of overhead spotlights to work under and a television tuned to an off-track betting station.
"It's exciting for me to watch my silks," she said.
She tends to bet on them, too, which can be complicated when several jockeys in a race are wearing her handiwork, or when her husband, now a respected horse broker, recommends against it.
At the Belmont Stakes in 2004, she saw a horse named Birdstone, facing 36-1 odds in a field that included Smarty Jones, the winner of the Kentucky Derby and the Preakness Stakes.
"I said, 'Honey, look, that horse has my silks,' " Brocklebank recalled. "He said: 'You know what that horse is saying? I want to go back to the stall.' And it won! It killed the Triple Crown."
Her sister works mornings from an office above a coffee shop that her daughters own.
The sisters make a few sets of silks a week and hundreds a year, selling them for about $300 each, depending on the detail work involved. Large farms may want a dozen or more to keep at tracks around the country. A one-horse owner usually has a single set that travels with the horse and trainer.
Every set of silks is the same size.
"I don't know what size you'd call it," Brocklebank said. "It's just our pattern. Most of these jockeys are 110 pounds."
The hardest pattern, the sisters agree, is a body covered in diamond shapes, because all the lines on the front and back have to come together on the sides.
"Sometimes you see a jock come across the finish line and raise his arms, and they're nowhere near each other," Miceli said. "And I go, 'Oh, that looks so bad.' "
When a set of silks is finished, a simple black-on-white tag is sewn inside the back collar: "Antoinette Brocklebank, Thoroughbred Racing Silks," it reads above her phone and fax numbers. "Anna Marie Miceli" it reads below, next to "New York."
The tags line an inordinate number of the collars at Belmont's Color Room, where the color men Walter Arce and Frankie Lopez keep about 3,500 silks in order.
"We have some in storage, because the room is getting too small," Arce said.
Open a program, point to a horse and Arce will return a moment later holding the proper silks, the cap shoved into a knotted sleeve.
The day's silks are hung, in order, on a rack for jockeys to pick up and wear. They are laundered and put back in the Color Room after the races — reds on one side, blues in the back, pinks toward the front. Each a little different from the one next to it.

Dr. Ted Hill in the Color Room at Belmont Park. He oversees the silks registry for the Jockey Club. New York has more than 31,000 designs on file.
Wednesday, June 02, 2010
Jockey Elliott to Receive 2010 Gomez Award
The Gomez Award is given to a Canadian-born, Canadian-raised, or regular rider in the country for more than five years who has made significant contributions to the sport.

Presented annually on Woodbine Oaks Day (June 13) at Woodbine, the honor is in memory of a Cuban-born rider who died of complications after a three-horse accident in the 1980 Canadian Oaks.

As a lasting reminder of his contributions, a life-size statue of Gomez, who called Toronto home and raised a family there, overlooks Woodbine's walking ring. A replica is presented to each year's honoree. Elliot plans on returning to Toronto to receive the Gomez Award June 13.

Elliott has worked tirelessly at his craft over the years. On May 13, 2003, he recorded his 3,000th career win, reaching the 4,000-win plateau Jan. 18, 2009, at Philadelphia Park. He has 4,185 career wins through May 31, 2010.

For all the awards and honors he's received over the years, including his high-profile Kentucky Derby and Preakness Stakes (both gr. I) triumphs with fan favorite Smarty Jones in 2004, Elliott regards the Gomez Award as one of his most cherished accolades.

"I was so surprised when I got the call," said Elliott in a release. "It was the last thing I ever expected. But I am so honored and so thrilled to receive this award. I certainly have a lot of respect for the riders who have won it in the past."

Born March 1, 1965, Elliott lived in Toronto until 1972 when he moved with his family to Hong Kong for six years, where his father Dennis rode. Upon returning to North America, Stewart Elliott began to think about a riding career. He won his first race at Keystone Park (now Philadelphia Park) Jan. 31, 1981 with Jack's Ruby.

"I've been pretty fortunate to have a good career," said Elliott in a statement. "Health-wise, I've been very lucky. To ride a horse like Smarty Jones and now to receive this, I'm just very grateful." The Blood-Horse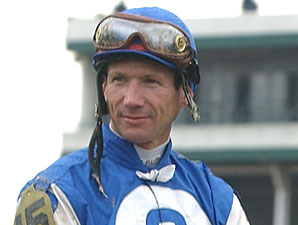 Tuesday, June 01, 2010
BELMONT JOCKEYS TO VISIT RONALD MCDONALD HOUSE
Two days before the 142nd running of the $1 million Belmont Stakes, Alan Garcia, Javier Castellano, Maylan Studart, John Velazquez and Edgar Prado, among others, will travel to the Ronald McDonald House in New Hyde Park at 10:30 a.m. to mingle with children at the House. Clad in their colorful silks, the riders will pose for photographs and distribute gifts of personally autographed riding goggles and hats.
"This is a very exciting event for our children and their families," says Executive Director Joanne Reda. "Meeting the jockeys is always fun for everyone. We wish them good luck on Saturday."
Garcia and Velazquez will have mounts in this year's Belmont, with Garcia riding Stately Victor and Velazquez aboard Fly Down. Garcia won the 2008 Belmont Stakes aboard Da' Tara, while Velazquez won the 2007 race with the filly Rags to Riches, the first female to win the Belmont in 102 years. They are the only two of the 11 jockeys with Belmont victories to their credit.
The Ronald McDonald House of Long Island is a 'home-away-from home' for families who are caring for seriously ill children undergoing medical treatment in area hospitals. Located on the campus of Schneider Children's Hospital, the House accommodates families in a warm and supportive environment. Since opening in 1986, approximately 13,000 families from the United States and more than 80 countries around the world have been served. Many of the families are from Queens, Suffolk and Nassau Counties, as well as the surrounding metropolitan area. NYRA Communications Office
Jockeys' Guild Membership Advantage
Jockey's Guild Annual Assembly
George Woolf Award
Click here to learn more
Jockeys' Guild Membership Application